Whew! October was a busy month. I tried to stick to a publishing schedule for this blog since it was new and I wanted to ensure a good base of readers. Life often intervenes as I'm sure other bloggers will know. Not only was October a busy blogging month, but it was a busy reading month as you can see from my previous post. I also make a Booktube video for my October Wrapup. I haven't uploaded it yet though. I attempted to and had an error and haven't had a chance to go back and retry. It'll be up soon, though. As for what I've been up to so far in November…
So far this month, I have read three books. Three books that are completely outside of my comfort zone but I really enjoyed all three.
#1. Ellis Island by Kate Kerrigan. I believe this was a book that I downloaded off of a Bookbub recommendation, meaning I either got it for free or really cheap. It appealed to me because I absolutely love the time frame in which the novel takes place, 1920-1940 and I also like immigrant stories. I didn't realize when I read it that it was part of a series until I got to the last page and was like, "That's it?!?!? This is how it ends?!?!" Yeah. I chose to read this book at this time because I'm trying not to start any new series because of my book buying ban. I mean seriously. I don't want to read book #1 and then be desperate to read book #2 if I don't already own it, ya know?? Grr.
#2. The Disreputable History of Frankie Landau-Banks by E. Lockhart. As I said in my review of We Were Liars I really respect Lockhart's writing abilities and talents. After reading We Were Liars, I wasn't too sure about her storytelling abilities, lol. I absolutely loved The Disreputable History though. It needs its own post and review.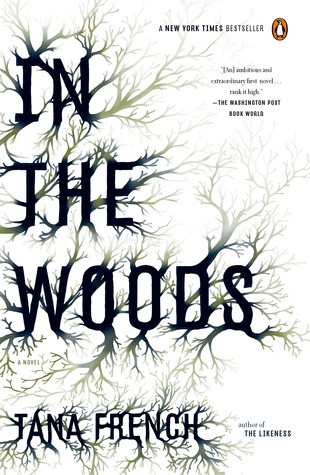 #3. In the Woods by Tana French. This is another #1 in a series, but from what I can tell, each book is a stand alone. This one certainly didn't have a cliff-hanger ending. I don't think I've ever read another "series" of books that didn't follow the same characters throughout. This series seems to be all about the Dublin Murder Squad as an entity rather than a group of people. I'll definitely read book two because I thoroughly enjoyed this book.
What I'm reading right now is VIII by H.M. Castor. Very excited about this book. It's YA so I should be able to read it fast enough to get to Atonement by Ian McEwan this week. Both books are library books and due on the 12th. Eeek! I might have to renew either one or both because three days isn't a lot of time to read two book.
How's your November going?